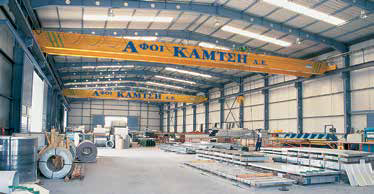 The company Bros Kamtsis was founded in 1991 following a merger of the company
K.Kamtsis & amp; Sia OE and Kamtsis Bros OE. The company's headquarters are in Thessaloniki.
Το δίκτυο πωλήσεων της εταιρείας Περιλαμβάνει όλη την Ελλάδα και τα Βαλκάνια με πωλήσεις
incurred by the company itself.
The modern form of administration of the company, allowing it to operate and is growing rapidly.
The installations of the company is privately owned and cover a surface of 3,500 sq.m. a plot of 5,500 sq.m. These facilities consist of offices - the company management, as well as by the appropriate storage areas for raw materials and finished goods. It must also be noted that the company maintains stable trade relations with the major steel mills around the world and especially with the countries of the European Union.

The company produces, sells and exports the following products:
Trapezoidal & amp; corrugated steel sheets (various sections and lengths upon request)
Μεταλλικά κεραμίδια στέγης
Purlins & amp; rafters section L & amp; C
Special profiles
Gutter
SPECIAL ITEMS
Ridges in all cross sections
Panels
Rollakia
Strips
The specific fragments can be produced in color or galvanized length to 8,0 m and a thickness of up to 4,0 mm.